Are you a budding entrepreneur? Are you surrounded by so many negative thoughts regarding your business or a new startup? If yes, then you are in the right place.
This guide will let you know to acquire the most valuable trait that most Entrepreneurs possess.
Reading good books and watching good movies to keep you motivated is one of those successful Entrepreneur activities in their life. 
Here we have presented a list of 9 movies that every Entrepreneur should watch once in their life. These movies can not only boost your confidence but will also make you focus more on your goal.
The Pursuit of Happiness
    – Believe Yourself
 This movie is based on the true story of Chris Gardner's struggle for a year, where he was doing a challenging internship as a stockbroker for 6months and at the same time, he was homeless with his son.
Friends & family left Gardner in his bad times, but he didn't stop believing in himself & never gave up.
Gardner keeps on doing things in his difficult times, focusing on getting the job after the internship and guess what he calls the job, true happiness.
2. Any Given Sunday
    -Enthusiasm
In this movie, there are two characters. Al Pacino plays like a veteran coach facing the heat & lost to Christina Pagniacci's team in football.
Seeing other competitors and Entrepreneur will make you feel down, but taking it into a positive side will lead you to find inner strength & being enthusiasts, overcoming the down falls with sheer willpower will make you succeed.
3.Startup.com
-Know your people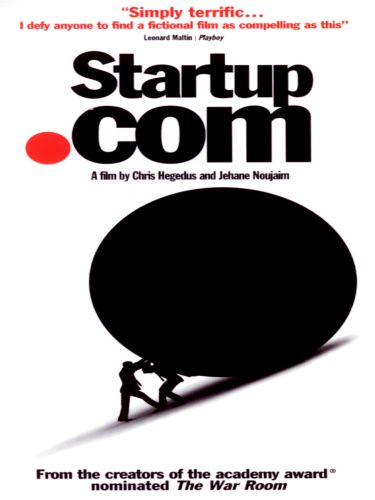 Working with your friends as business partners can sometimes turn into rivalries due to business partners & politics between them. This movie is about the startup GovWorks business, which eventually failed because of internal politics & mismanagement.
4.Enron: The Smartest Guy in the Room
-Greed & Corruption leads to failure
Another movie, a story of the Enron scandal, Used unethical practices, hired people from top to bottom for greed & profit, deceived the public & stockholders led to failure in the end.
5.Wall Street
-Ethical Path
This movie tells you about what happens if you take the crooked path.
In today's world, most young entrepreneurs are making immoral decisions because they are easily influenced by greed.
So in the movie Naive, Bud Fox inspired by Gekko's glamorous lifestyle, for which he practiced an unethical path leading him stuck in trading struggles.  
6.The Aviator
-Overcoming Obstacles
This movie is a biopic of Howard Hughes, who overcame many difficulties fighting big companies, also battled mental illness of OCD & became a famous Businessman & successful Film Director.
7.Erin Brockovich
-Never Give Up
Based on the true story of Erik Brockovich, despite having proper education in the law, she builds the case against Pacific Gas & Electric Company of California, which was a successful case.
This movie will make you understand the never give up attitude, stand for yourself & being socially responsible.
8.Thank You for Smoking
-Persuasiveness
This movie is about Nick Naylor, spokesman of Tobacco, defends the cigarette company in a challenging situation.
This movie teaches you that you can sell anything if you have data & persuasiveness to convince your audience, as sales is an important & an essential part of a business.
9.The Big Short
– Taking Risk
This movie is based on the book by Michael Lewis, The Big Short. Here you will learn about three individuals who predicted the future when global financial 2007-08 was going on and cleverly made money.
Conviction power & taking Risks is an essential part of the movie, making it on this list.
Conclusion
The movies, as mentioned above, can lit up the lost confidence in you and fill your soul with utter motivation. Every Entrepreneur faces a situation where they started doubting themselves and decided not to continue with the plan; this is where the mistake is. Amidst these challenging times, you should accept that it is a low phase and switch on to a different path that will enlighten your way with positivity, motivation and confidence.